ABOUT SIMBIOSE
Simbiose, the debut album from the Brazilian duo of Daniel Santiago and Pedro Martins, was released in 2017 on Adventure Music. Santiago and Martins have been performing for several years, with Santiago playing acoustic guitar and Martins electric guitar with the addition of mesmerizing wordless vocals. Simbiose comprises nine original tunes – eight written by Daniel Santiago and one written by Martins. The result is a delightful set of interaction between acoustic and electric guitars. The captivating music contains jazz, classical and Brazilian traditional music elements.
Daniel Santiago is a composer, guitarist and music producer who for the past 20 years has been an active and key contributor to the Brazilian and world music scenes. Originally from Brasília, Santiago is deeply rooted in the traditional sounds of his homeland, and also cites English rock of the 1970's and 80's and the contemporary aesthetic and complexities of modern jazz as major influences upon his unique and diverse musical world. His work is characterized by the development and search for an original sonic language, and a remarkable ability to translate deep, resonant emotion through whichever musical medium he chooses. As the acclaimed composer Guinga said of Daniel's music "Nostalgic and futuristic, this is the way to Santiago."
After being introduced to Pedro Martins by Kurt Rosenwinkel, rock/blues guitarist Eric Clapton came across Simbiose and decided to invite the duo to be part of his Crossroads Guitar Festival in September 2019 in Dallas (USA), marking the first Brazilian appearance at the event.
---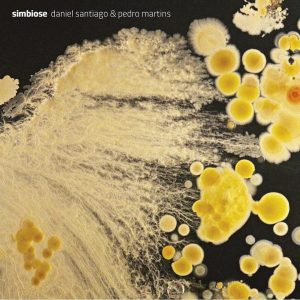 Tracklist:
1. Retrato
2. Simbiose
3. Distância
4. Terra Molhada
5. Caravela
6. Paz
7. Terra De Ninguém
8. Refletindo
9. Chorando E Sorrindo
---
DANIEL SANTIAGO & PEDRO MARTINS – 'TERRA MOLHADA'
DANIEL SANTIAGO & PEDRO MARTINS – 'DISTÂNCIA'
---